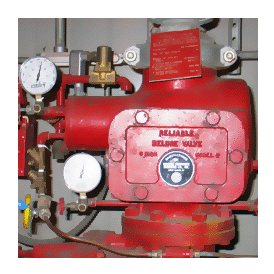 When you are trying to protect a hazard at your facility, there are a wide variety of Suppression Systems to choose from. This gives a person wide latitude of how they can go about protecting their facility.
To start with, there are two basic categories that systems fall into. They are called Engineered and Pre-Engineered Systems. While all systems operate in a similar fashion by dispersing one of the fire suppression agents from a cylinder or tank, or in the case of a sprinkler system from an undergound piping network. The main difference between these two categories of systems is the way the system is designed.
In addition, NFPA requires that virtually any system that is installed be an "approved system", which means some type of review and approval process by a recognized testing facility. In the United States there are two main facilities. The most prominent one to most people is Underwriters Laboratories. This agency approves many of the items we use in our daily lives, and is the prominent approval agency in this country. Virtually any type of a fire suppression system will be reviewed and then approved by them after passing rigorous testing to ensure proper operation under a wide variety of conditions.
The second major testing facility is Factory Mutual. This is an offshoot of the Factory Mutual Insurance Group, and was originally a review process for their clients. It still serves that purpose, but they still test a large variety of equipment and approve it for Fire Suppression Systems. Since Factory Mutual is based in the Northeast United States, it is more prevalent in that part of the country, but is recognized anywhere in the country.
A Pre-Engineered System is exactly that. It is a system where someone, usually the manufacturer, has done all the design work, and developed a manual about how to install that particular system, using equipment they have developed for it. This manual is then reviewed by the approval agency, and is approved as a total package. That means that you can only use the components listed in that manual in the manner prescribed in that manual. These are the systems that most people will come across in their daily lives. Virtually every Restaurant in the country has a kitchen hood suppression system. These systems have been around for over 45 years, and are highly reliable when installed in accordance with the manual. The other major pre-engineered system would be the one installed in many states on gas dispensing islands.
In addition to those more consumer oriented systems, there are many industrial pre-engineered systems. These systems can use carbon dioxide, a clean agent such as FM-200 or a variety of dry chemical agents. They protect a variety of areas such as hazardous material storage rooms, telephone equipment rooms, server rooms, and many others. While these are an excellent system when your hazard fits into their parameters, they don't offer any exceptions when they don't, and you have to use exactly the components prescribed in the manual. There is no "mix and matching" allowed!
The most widely used types of suppression systems would fall under the Engineered category. We see these virtually every day, since all sprinkler systems would fall under this category. Simply stated, Engineered systems are custom designed for a particular installation, and the components used are decided upon by the designer of the system from a large selection of approved parts. Specific Calculations need to be done for the particular hazard and installation layout of that system.
SPRINKLER SYSTEMS:
All sprinkler systems share the same basic design parameters. There needs to be a source of water, valves to control the water coming into your facility, and a sprinkler nozzle to disperse the proper amount of water in the area being protected. There are several different types of sprinklers such as Wet Sprinklers, Dry Sprinklers, Pre-Action Sprinklers, Deluge Sprinklers and Foam Water Sprinklers. While sprinkler systems sometimes protect a specific area of a building, usually they protect the entire building.
CLEAN AGENT SYSTEMS:
These are highly specialized systems using a specific gas mixture to suppress a fire in a particular area of a building. They are rarely used to protect a complete building, unless it is a smaller, stand alone building completely dedicated to one purpose, such as a remote telephone switch building. A common feature of these systems is the ability to provide an extinguishing level of agent, while at the same time providing for occupant protection to anyone inside the area during the operation of the system. These are highly effective systems, but need to be properly designed and installed by trained people. A major concern with these agents is the ability of the area to contain the agent after discharge to maintain an effective suppression concentration. This can be ascertained by performing a room integrity test. Of course in this environmentally charged environment, we have to be aware of what we install and how it relates to the environment. That is why all agents must comply with federal regulations, though the end user needs to decide how environmentally Green he wants to be. Additionally, the different agents do work differently, so sometimes the area they are being used in will dictate the agent being used. The most widely used is FE227, which is also known as FM-200, Encaro and Sinorex. While there is no difference between the agent in whatever name it is called, every manufacturer has different hardware to store it, and distribute it to the protected area. They all have a software program to do the calculations for the pipe sizes and distances, as well as the configuration of fittings used. This agent was the first of the new agents to replace the ozone depleting halon 1301, and while it is extremely environmentally friendly, it does have a very small environmental impact.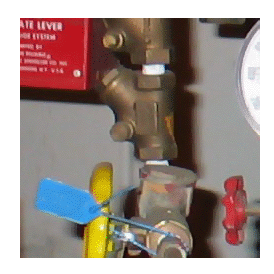 There is another, somewhat niche agent called FE-13. This was originally designed to be used on the Alaskan Pipeline. It costs are somewhat higher than the previous agents, but it has the ability to work at temperatures down to minus 40F. If your needs fall into this category, this may be your only agent of choice.
Another agent on the market is NOVEC 1230, which also marketed as Sapphire. This is an extremely effective agent and has many advantages over FM200. Much of the hardware used for FM200 can be used for these systems. The design parameters are also very similar, though each has it's own unique software program.
The most environmentally friendly agents are actually in the inerting family. These systems actually discharge enough agent to reduce the oxygen level to a point where fire cannot be sustained, but there is enough oxygen to allow for people to leave the area. A major drawback to these systems is the cost of the agent storage containers, as well as the area these containers will need. They also will need venting in the area to allow for the release of the increased pressures associated with the discharge. A major advantage of these systems is the ability of the agent to remain in the area, and thus work when a room cannot be sealed well due to construction or cost issues. These systems are marketed by different manufacturers, under the argonite and inergen names, and have slightly different blends of gases. Both of these agents have zero global warming and zero ozone depletion levels.
DETECTION SYSTEMS:
When you are trying to protect a hazard at your facility, there are a wide variety of Detection Devices and Systems to choose from. This gives a person wide latitude of how they can go about protecting their facility. To start with, there are five basic categories that the different types of detectors fall into. The most simple are the heat sensing detectors. These can range from a simple fusible element that melts when reaching a specific temperature, to electronic sensors of temperature, to detectors that register a certain rate of increase of heat, to rate compensated devices that are extremely accurate for their rated temperature. A subset of this type would be the linear detector, which measures heat along a length of wire and responds accordingly. Then you have Product of Combustion detectors. These fall into two basic categories of Photoelectric and Ionization type devices. Each type responding to a slightly different type of smoke. Next you have smoke sensing detectors, more commonly referred to as Beam Detectors. Another category would be the radiant energy detectors, more commonly known as Flame Detectors. These detectors respond to visible flames. The last type would be Air Aspirating Detectors, also known as High Sensitivity Smoke Detectors.
Again, as with detectors, to start with, there are four basic categories that systems fall into. They are called Basic, Conventional, Addressable, Intelligent. There are three ways that System Control Panels can be interconnected. They are Stand Alone, Reporting and Networked. In the commercial world, one would rarely find a basic system. These systems are usually installed in residences, and are usually just a few smoke detectors without any type of control panel. The starting point for a commercial system is the Conventional System, which is also known as a zoned system. These systems employ a pair of wires with a number of detectors on them to protect a "zone" of a building. Each panel can have multiple zones. The main drawback to these types of systems, is the lack of a specific location when a detector goes into alarm. You have to investigate the entire "zone" of protection to find the specific alarm location.
Addressable Systems were developed to enable a person to directly locate the alarm point, by having it's location coded into the panel, and displayed on the panel's screen when it went into alarm. A major drawback to this type, is that when a detector went into alarm, it had to wait for the panel to poll all the devices before it recognized the device in alarm. This could result in the loss of precious seconds of reporting time. Intelligent Systems overcame this shortcoming. While on the surface they appear very similar to addressable systems, in that the location of the device is displayed on the panel's screen, the detectors will report to the panel as soon as they go into alarm, rather than waiting for a polling action. This can save those precious seconds of reporting time.
Another feature common to both addressable and intelligent systems, and what really sets them apart from Conventional systems is a custom written program that tells the panel how to operate. This gives the designer a wide latitude of actions to perform when a device goes into alarm. This ability is only limited by the sophistication of the software provided by the manufacturer of the panel. Unfortunately, since every manufacturer writes their own software for their panel, not all panels can perform the same actions, and may not be able to perform the functions you require at your facility.
In addition to the types of control panels, there are also three ways that panels are utilized in a facility. First, you can have a Stand Alone Panel. This where you have a single panel that can perform all the functions that are required to protect your facility. Next you can have panels that Report to another one. This is commonly used where you have a single panel protecting a facility, and one or more smaller panels controlling a suppression system, which send basic information back to the main panel. The main panel in turn will perform all the alarm notification functions required outside of the area of the suppression system. Lastly, one has a networked system, where a facility needs coverage that is in excess of what one panel can provide, or may have multiple buildings to protect, multiple panels can be joined together in a "network", where specific information about what is going on is displayed on all the panels simultaneously, and with the limits of the Underwriters Laboratories, control functions can be performed from any panel.
Last, you have a difference in the basic Control Panel listing by Underwrites Laboratories. One may think that all panels are created the same, but there are two major categories that panels fall into. The most common of these are the Fire Alarm Panels, which is what thinks of when thinks of these types of systems. They perform the basic functions of detection and alarm notification, with some related equipment control. The other type is referred to as a Releasing Panel. While this panel may perform detection, alarm notification and equipment control functions, it also will provide for the operation of a Suppression System. One has to be very careful, since not all Fire Alarm panels can provide Suppression System control, and vice versa. In addition, since the 9th edition of the Underwriters Laboratories Standard, Releasing Panels are tested and designed to work with a very limited and specific type of system. Usually it's just the system that that panel manufacturer also manufacturers. One would need to question very carefully, if you had a system with one name on the panel and another on the suppression system. Without the proper Underwriters Laboratories listings, you won't have an approved system as required by the National Fire Protection Association.